Events & Courses

To register for any of the events, please click on the event title or in case of different times on the time slot to be directly transferred to the registrations page. All times are stated in Eastern Time. All fees are stated in Canadian dollars. As soon as you have registered, I will send you the link to the event. The registration deadline is at 10 pm the day before an event except otherwise noted. You will find more information for each event and the list of materials on the registration page.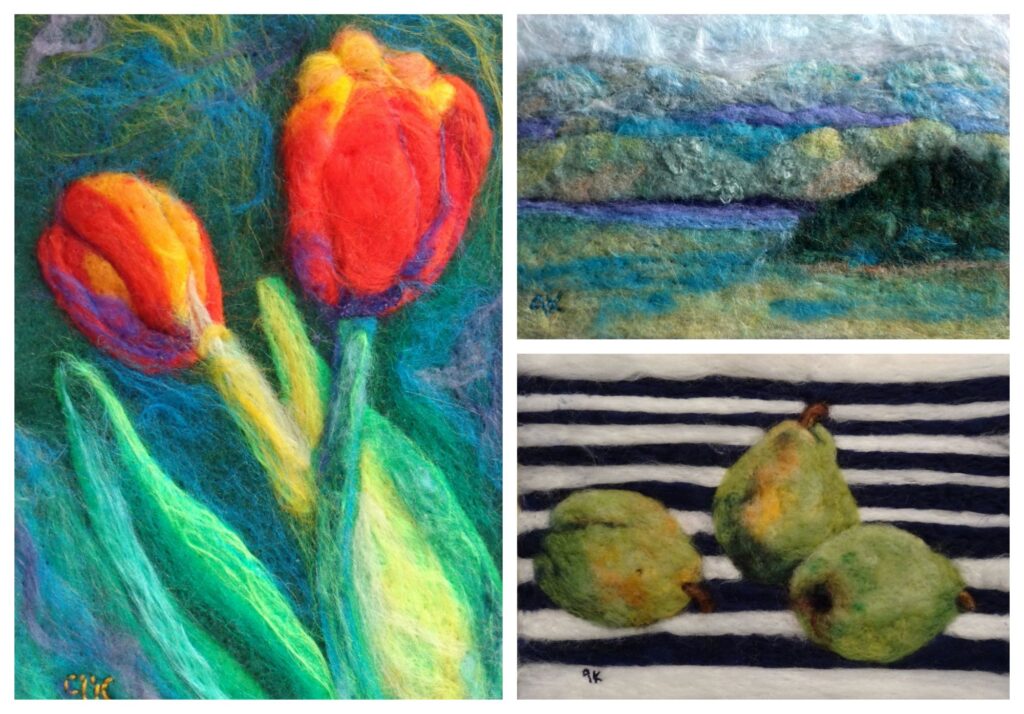 Felting Experience – Felted Paintings
April 21, April 28, May 5, 2021, 2:00 pm 4:30 pm, Zoom
a minimum of 4 and a maximum of 8 people, $170.00/person
Bonus:
additional support and resources in my private Facebook group
20-minute private Zoom consultation
April 21: Tulip
April 28: Seascape
May 5: Apple or Pear Still Life
During each session, you will :
learn needle felting basics
be guided in the creation of the project
This workshop is for you if you:
would like to learn how to needle felt
would like to learn to create needle felted

paintings

enjoy learning in a small group
Kits for the workshops will be available for $70 + shipping.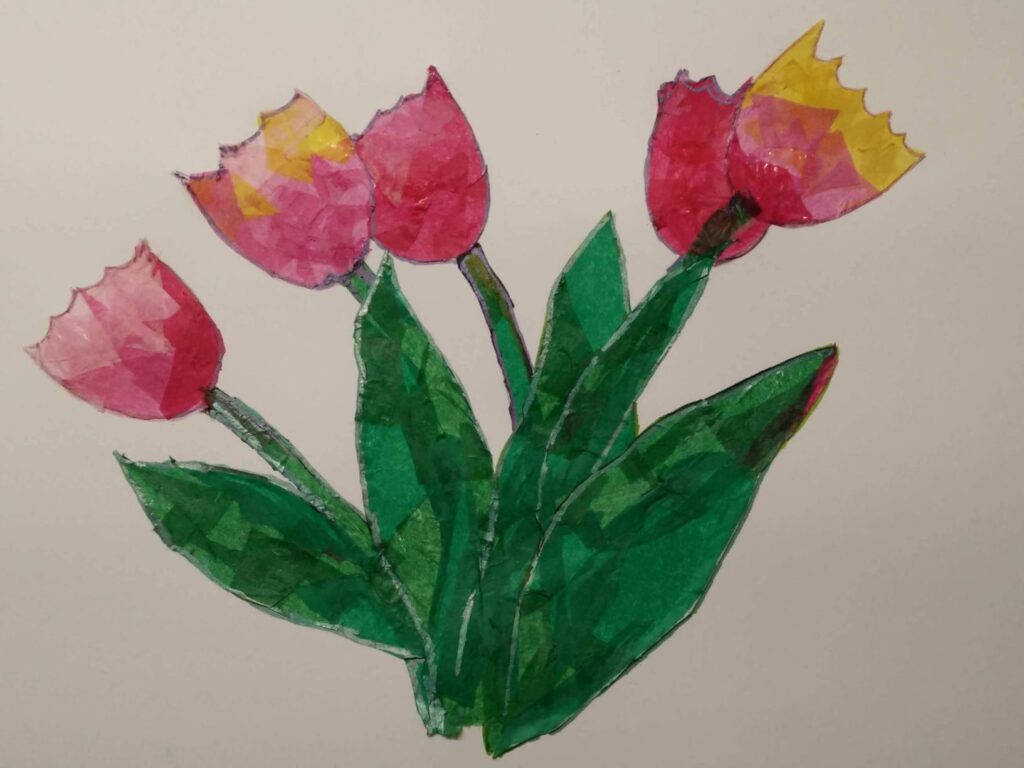 May Art Cafe
May 2, 2021, 3 pm – 4:30 pm, Zoom: Tissue Tulip Collage, $10
I invite you for an afternoon of chatting and laughter. What could be more fitting to celebrate the Tulip Festival in Ottawa than a tulip art?
This event is for you, if you
would like to meet and get to know new people
enjoy the social aspect of creating art together in a relaxed atmosphere
would like to upcycle old books, magazines, and papers
The art cafe is my monthly social gathering to bring people together to bring more creativity and fun to your life.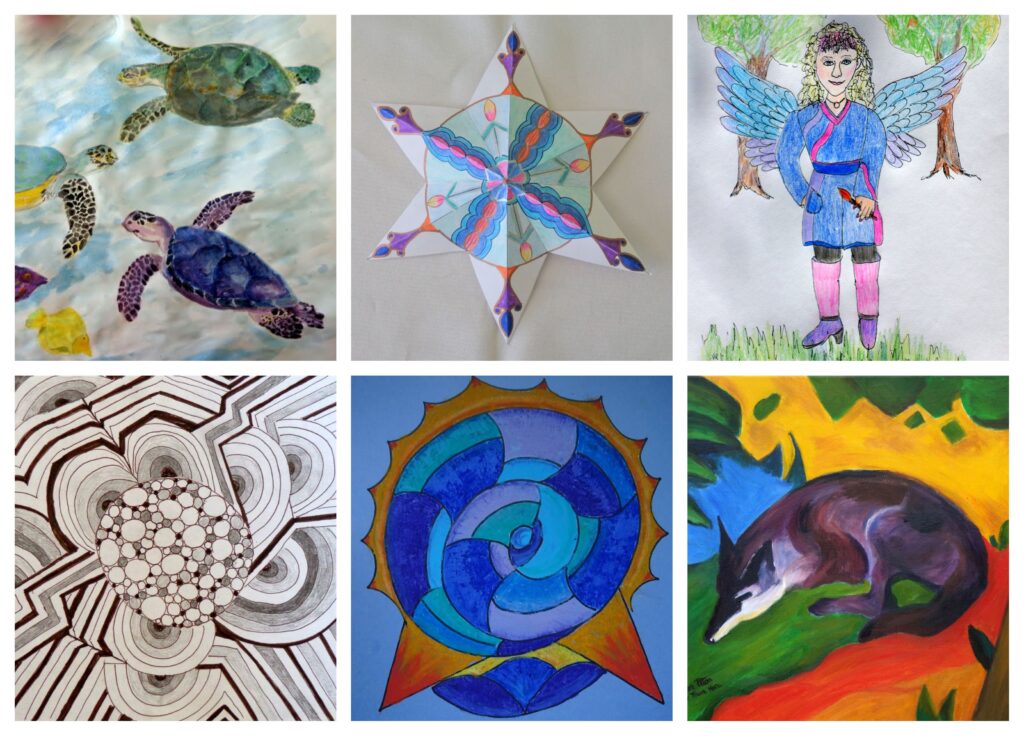 Unleash Your Creativity Kids
May 11, 2021 to June 15, 5 pm – 6 pm, Zoom
minimum of 4 registrations, maximum of 8 registrations
no class on May 25, 2021
The course is for children age seven and up, and teenagers.
We will work with different mediums to help expand your children's creative muscles. We will draw, paint and create ripped paper and mixed media art.
This course is for your child if :
they love to draw and paint
you would like some guided art instruction for your child (children) in a variety of mediums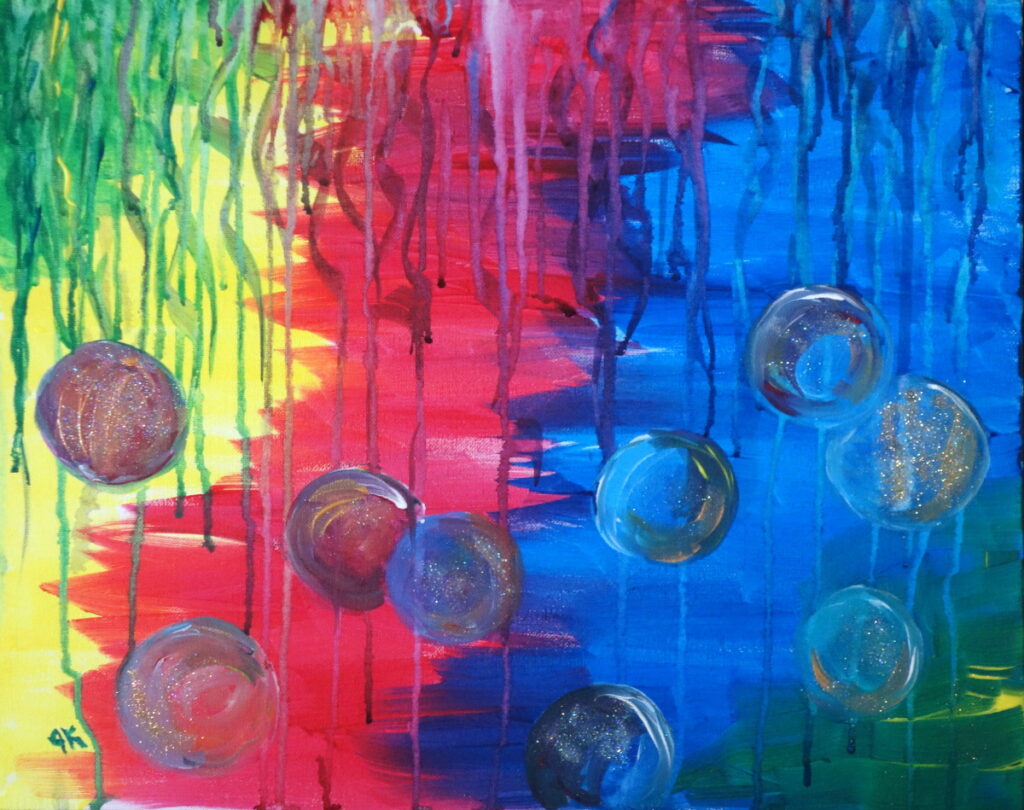 Bubbles of Joy Painting Party,
May 30, 2021, 3 pm – 4 pm, Zoom
Zoom, a minimum of 4 participants/a maximum of 8 participants,
$ 15/person or
Please register by May 28, 2021, at 10 pm.
For my Learn Basic German Through Art Courses please go here.
Courses run through the City of Ottawa
The City of Ottawa does not offer any art courses in their recreation centres until further notice.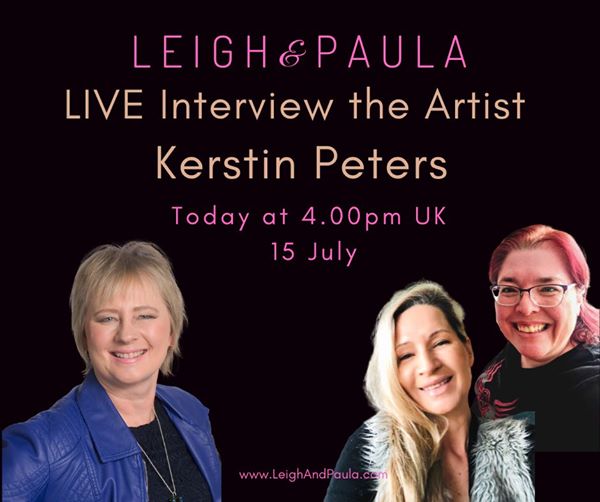 To see the recording of this interview please go here.
Reviews:
"Kerstin Peters's workshops have helped me to become very creative.  Kerstin is a multi-talented artist who loves art and people.   In my case, she helped me see my potential, become more confident and daring as I learned and experimented.  That is an amazing gift!  Expressing myself through art (painting, collage, felting, mixed media) and enjoying art generally now enriches my daily life."
Francine C. (young retiree)
"I love Kerstin's artworks. I have attended a few of her short workshops & love her versatility in so many different mediums. I have found a couple of things I really enjoy."
Cynthia W.
"Kerstin is a patient and meticulous instructor. It's a A joy to attend her classes."
Cara Hancox
"Lots of fun and not intimidating . Kerstin makes it easy."
Marilyn Kasian
"Kerstin is an inspiration for artists. Thank you."
Diane Charlebois