Languages are the gates that open so many doors, and I will create a curriculum that will support you in your language studies according to your learning type and goals in an enjoyable and practical approach, whether you would like to communicate with your friends or relatives, need German for business or are planning a trip to Germany, Austria, or Switzerland.
I am passionate about teaching German in an interactive and creative way because when I came to Canada twenty-five years ago, I had all the language skills in my head. However, I did not dare to talk to people because I was so afraid they would think that I was stupid. I wanted to express myself to them with the subtleties of my mother tongue.
During the two-year language course, the goal had been perfection, but we never practiced interactively with real people. It took me a long time to realize that the purpose of learning a language is to communicate. The person across from you does care if you are using the right word order or the correct article. What matters to them is that you are communicating with them.
As an immigrant to Canada, I know the importance of acquiring not only the language skills for communication but also some knowledge of a country's traditions and culture.
I offer private, semi-private, and small group classes for various levels. Until further notice all courses are virtual.
To register for any of the events, please click on the event title or in case of different registration options on the applicable option to be directly transferred to the registrations page. All times are stated in Eastern Time. All fees are stated in Canadian dollars. As soon as you have registered, I will send you the link to the event. The registration deadline is at 10 pm two days before an event. You will find more information for each event on the registration page.
If you do not feel comfortable entering your address when you register, please replace it with 1270 Kinsella Drive, Cumberland, ON, K4C 1A9.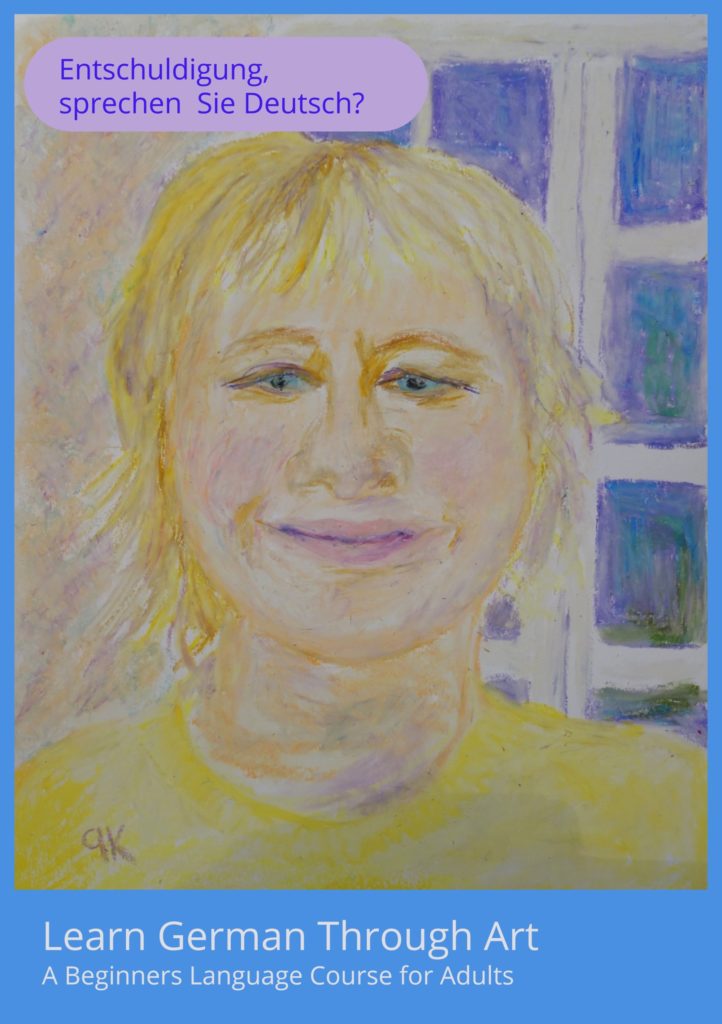 New 4-Week Beginners Courses will start in January, 2022, Zoom
ATTENTION: Please choose local pickup when you register to avoid shipping charges.
January 5, 12, 19, 26, 2022, from 6 pm to 7 pm
January 6, 13, 20, 27, 2022, from 12:30 pm to 1:30 pm
a minimum of 4 participants/a maximum of 6 participants
Learn Basic German for everyday use in a fun and interactive way. During these four weeks, we will study the first two chapters of my book. You will learn how to introduce yourself and others, ask for basic information about a person, including a description of their appearance.
Art

projects related to the vocabulary of each class to help you visualize and memorize the new material
Interactive learning through role play
Language teaching material will be provided as a PDF file
Membership to a private Facebook group with bonus materials and pronunciation exercises and language games
Videos library to practice pronunciation
After the four weeks, the courses will continue with the second unit.
I invite you to join my private Facebook group Connect through German (for German learners of every level):
https://www.facebook.com/groups/connectthroughgerman
This group is for German learners who want to have fun interacting and learning new skills. We are here to support each other and learn from one another.
This group is for you if you want to:
– build relationships
– share learning tips and resources
– ask questions
– find support and accountability
Reviews from clients:
When I was 18 or so, I had the opportunity to travel to Europe for a few months, at a time when it was fashionable to do so. During my stay overseas, I visited Germany and immediately developed an attraction for its culture and language. Sadly, upon my return to Canada, life took over and I did not have the opportunity to actually learn the language, until a few years ago,
It is then that I started taking German classes with Kerstin. Kerstin has been my language teacher for the last few years. The original plan was that I would join a German class group she had organized through the City of Ottawa. Sadly, not enough people signed in.
We quickly agreed to hold individual classes, and we have worked together since then. Kerstin was able to positively share her language and culture with me. Kerstin came regularly home once a week for classes. Her teaching plans were always prepared and she was constantly able to provide positive comments, not only on vocabulary, and grammar, but also on many cultural aspects of her home country.
Kerstin is imaginative and she has included conversation classes with other students where we would meet over coffee to discuss a pre-shared discussion topic.  Kerstin is also flexible in her approach. While I was away on long-term vacation or as nowadays, during the current COVID-19 crisis, we were, and still are holding our classes and conversation meetings through the Internet.
 I highly recommend Kerstin to anyone who wants to learn German in an effective and  flexible manner. Good luck in your studies.
Hugues C.